Right now if you are planning to charge for your app you may find you have no choice but to join the 'race to 99 cents'. Depending on the type of app, its perceived quality and your competition though you may have a few more options.
The 'race to 99 cents' is a referral to the fact that many app creators now focus purely on the $0.99 mark because:
they want to charge something;
but if they charge any higher than $0.99 they are frightened of being pushed off the Top 25 list (or any other part) of the App Store and overtaken by other apps who are hitting that $0.99 impulse purchase 'sweet spot'.
There is a lot of evidence to support the notion that, if you're hoping for a big hit, pricing at $0.99 should be your strategy. A glance at the App Store's Top 25 as I write reveals that all the current top 10 Paid Apps on the App Store are at the $0.99 price point and only six of the Top 25 have higher prices (none of which could be described as a high price). Before you get down about app creators cutting each other's throats though, let me offer some alternative approaches. As usual, a lot can be learned by looking at what others' have done.
Pricing strategy examples
Guardian App ($3.99)
Despite many news apps being free (presumably as part of a race to get as many users as possible). The UK's Guardian newspaper took notably longer than many competitors to enter the market and when it did so it did it with a price tag attached.
Rather than being held back by this strategy though, it fared well. In fact the Guardian app managed to reach, amongst other highlights:
#1 Paid, Grossing & Paid News App in UK and Ireland
#1 Paid News App in Canada and Australia
#2 Paid News App US
So, how was it able to enter the market (relatively late), charge a reasonable price and still be successful? I think the answer is one thing above all else: understanding it's audience:
 Firstly, as one of the UK's more expensive newspapers it knows its users will pay more for what they consider a premium product;
Secondly they know that, although they might not have as big an audience as some other newspapers, they can be confident that the audience they do have is seen as very loyal and would prefer to get their news primarily from them. Given the choice of paying $3.99 or never getting the Guardian iPhone App then, they were always likely to pay;
Finally, as a so-called 'quality' newspaper they could also be pretty sure that their readers would rather wait a little longer and get something of quality than see their favourite newspaper rush out something cheap and nasty. It is interesting to note too that, for a news app, the Guardian app is very uncluttered but still retains a lot of features. This must be down in part to some extensive user testing and planning at the concept stage of the app, ultimately justifying the 'delay' in launching it.
TomTom ($59.99 for USA & Canada edition; $89.99 for Western Europe edition)
Consistently in the Top Grossing Apps on the App Store. TomTom has shown that premium prices can be charged for apps. How?
First of all TomTom is a very well known and trusted brand in the 'real' world, users are much more likely to pay TomTom $60 than they are an equivalent sat-nav service they have never heard of ($60 is a lot for an app you are not sure about);
Secondly, TomTom already knows it's users are happy to pay more than this for their physical products so they can be reasonably confident they have a good chance of selling well at this price point (they have seen their existing customers regularly pay more);
Finally and perhaps most importantly. The app does not exist in isolation from other purchasing decisions. By purchasing this app for $60 users are saving a significant amount on a product which works in a very similar way in the 'real' world. Assuming the user trusts that the app is an equivalent (or close equivalent at least) to TomTom's physical products then TomTom has a great chance of selling the app at this price. Although the app is expensive next to Angry Birds, it is relatively cheap compared to TomTom's other products. In this way TomTom is not only cleverly embracing this new technology (which is likely to replace its previous business model one day) it is also making a decent profit on each sale.
See also: NanoStudio ($14.99) – a combination of a unique, high quality product and little a bit of TomTom's 'replacing something in the real world', has seen this portable music studio become a big hit.
Tiers
There are 85 possible price tiers for you to sell your app at, all the way up to $999 USD (yes, it has been done1). The first ten tiers for some of the most common App Store countries are listed below (remember Apple takes a 30% cut of the purchase price of each app so don't read those prices as pure profit).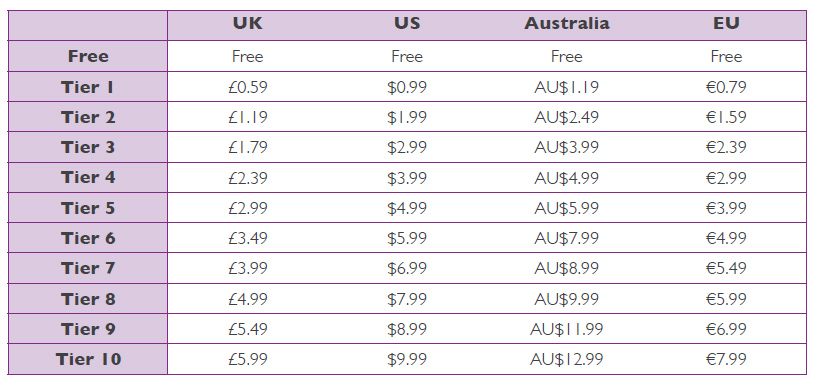 The ten cheapest tiers you can price your app at
---
1Apple removes $1,000 featureless iPhone application' latimesblogs.latimes.com/technology/2008/08/iphone-i-am-ric.html