Whether you love it or hate it social media can offer some big opportunities for promoting your app.
With minimal effort services such as Facebook and Twitter, can be an easy and effective way to start creating some buzz (and only take a few minutes each day to monitor). Assuming you also allow your Facebook and Twitter pages to be publicly available that's some info about your app for Google and the other search engines to pick up on too.
As important as these services can be though, it's also important that they fit in with what you are trying to achieve overall. If you feel that Twitter and Facebook don't fit your strategy you shouldn't just do them for the 'sake of it' (you can always change your mind and start them later).
Create a Facebook fan page
Creating a dedicated Facebook fan page for your app is easy. It also gives you a simple way to build an online fan base which you can make announcements to and get direct feedback from.
To set-up a new page login to either your own or your company's Facebook profile, go to facebook.com/pages/manage/ and there click '+ Create Page'. Or, if you want to create a page that's completely separate from your existing Facebook account go to facebook.com/pages/create.php and start a new one from scratch.
Some tips:
• Choose the name of your Facebook page carefully, you won't be able to change it again…
• …and try to use the exact same name as your app, if you can, as it will help people find it easier.
• Upload a logo.
• Add a short description of your app.
• Add the address of your app's promotional website (if you have one), as well as the URL of your the app on Apple's online App Store.
• Under the Photos tab add some screengrabs of your app and any other promotional material.
• Under the Videos tab add your YouTube trailer and any other videos made for the app.
• As soon as you get 15 fans you should register for a shorter web address for your Facebook page (eg: facebook.com/cocacola). This will effectively replace the much longer, web address you will currently have, making it easier for people to memorise and for you to include on promotional material. Once you hit the 15 fan mark you can do this under the Settings area of your Facebook page.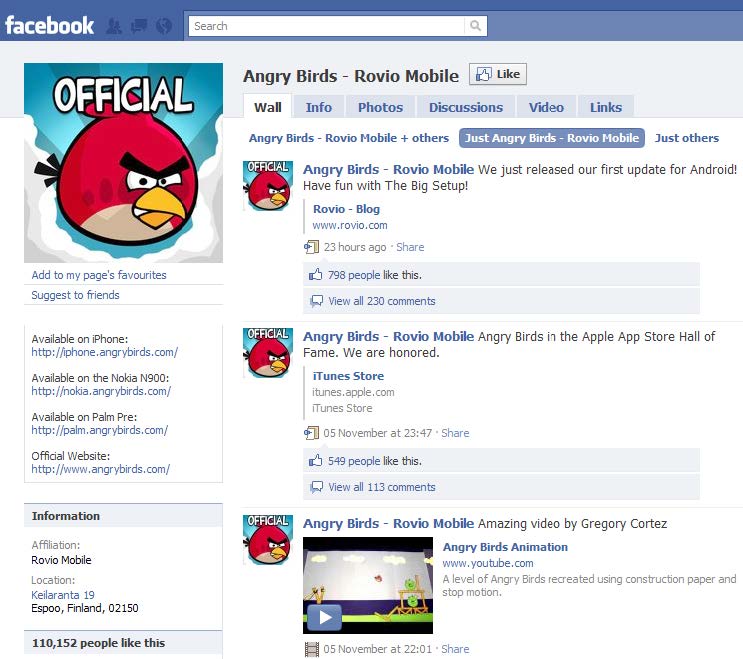 The official Angry Birds Facebook page
You should also monitor the discussions on your Facebook fan page at least once a day and interact with your audience wherever possible. If people have any questions, answer them! If they request new features, thank them for your suggestion and let them know if you're considering it.
You can also post previews of upcoming features, share tips and announce competitions here first, so people see the real value of 'becoming a fan'. Remember any new posts you make to your page's wall may also appear on your fans' news feeds (the first page most people see when the login to Facebook) so make them interesting and of value, but not so frequent as to just become 'background noise'.
Create a Twitter page
You may also want to create a dedicated Twitter page for you app. To do this simply go to twitter.com and register a new account and choose your username (your username will also end up being part of you Twitter URL – eg twitter.com/appoutsourcing – so choose with that in mind). You can then use this in a similar way to a Facebook fan page building up a group of 'fans', listening to/polling them for feedback and announcing new features.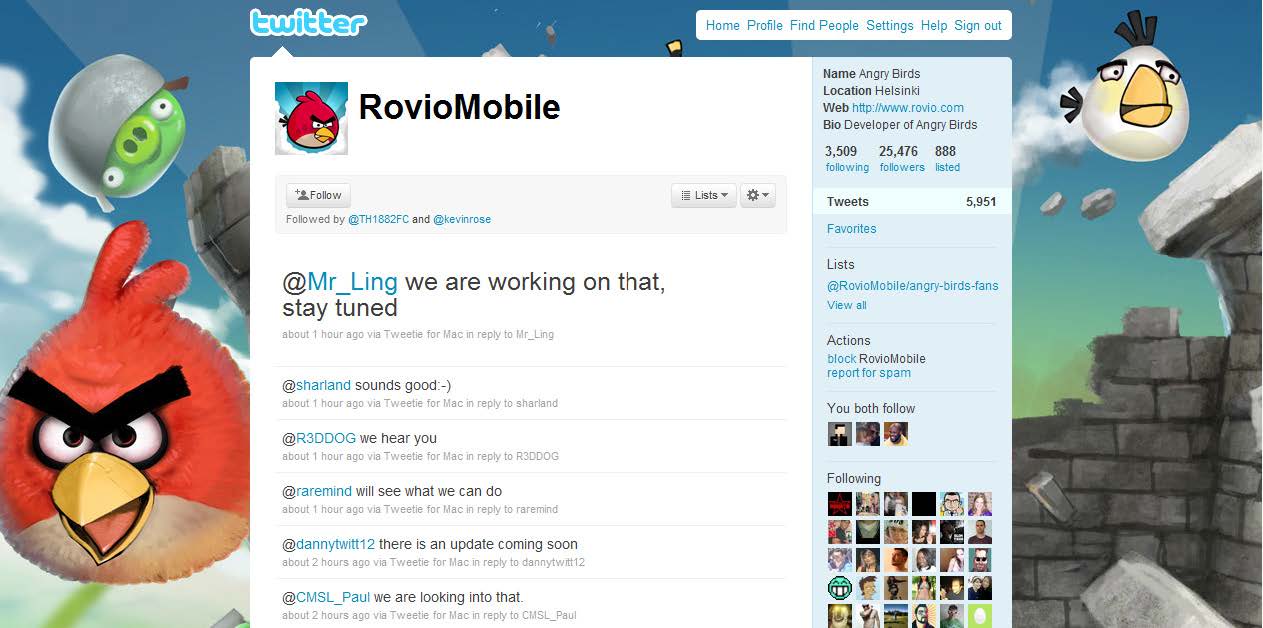 Angry Birds fans have their questions answered on the official Twitter page for the app
You can also get your designer to make you a cool Twitter background (twitterbackgroundsgallery.com)! If you're new to Twitter the same website also has a great page of useful links which you may find helpful
twitterbackgroundsgallery.com/resources/
YouTube
Create a short trailer, 'how to' guide or other promotional video and share it on YouTube (you can even create a dedicated YouTube channel if you're planning on creating several). You can then easily embed or link to the videos from all your other promotional material (website, blog etc).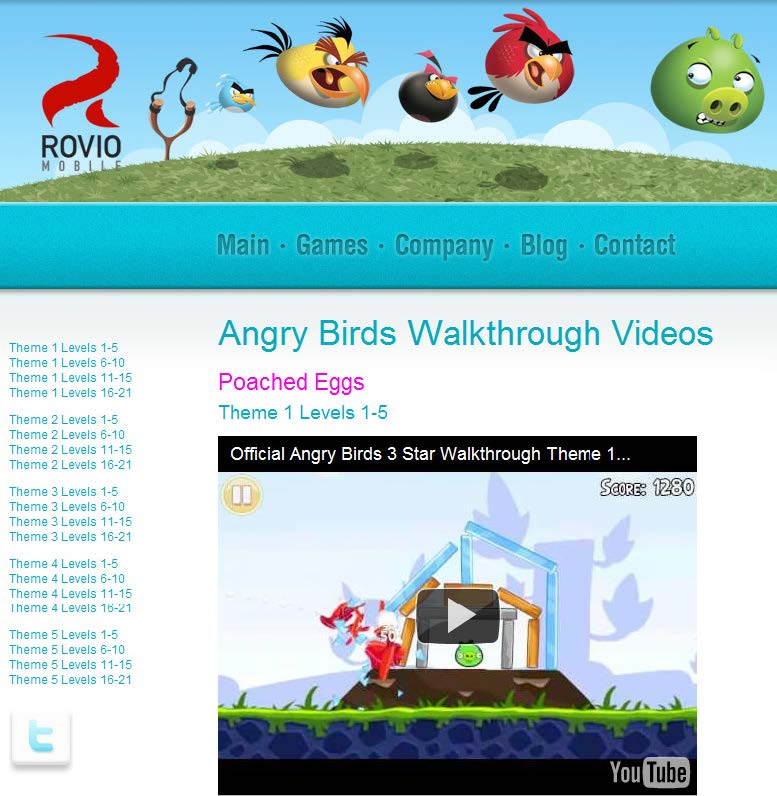 The video walkthrough page of the Angry Birds website
If you've made a game app, you might consider doing a series of walk-throughs for any of your customers that might be stuck at a particular point. (See 'Angry Birds' as a case in point rovio.com/index.php?page=angry-birds-walkthrough-videos).
You can also then distribute your trailer video online using free services such as TubeMogul.