Tell the world or target a select few and build the hype. There's a few ways you can go, all of which are discussed in the following section. All you have to do is decide which approach is right for you.
Send out a press release
Yes the mighty (and often forgotten) press release! 'But no-one uses them anymore?'. Wrong. Target the right media outlets and you can get some great results. Even better, call or email journalists that work on a publication that is directly relevant to what you are doing and talk to them about why their readers would be interested in your app. If you want to do 'mass' releases of your announcement as well, then you can post them to sites such as:
pr-inside.com
prmac.com
Put yourself out there
If your app is sufficiently quirky and/or attracting interest, you can also offer yourself up to speak on podcasts, radio shows, and TV. You might not make it on CNN but there are thousands of niche podcasts and other media outlets that might target exactly the same audience you are looking for. Take a look on the Podcast Directory in iTunes on your computer or go to Podcast Alley (podcastalley.com) and see what podcasts might be appropriate.
You can also browse YouTube and see if there's a YouTube channel that might be relevant for your app. If they have a decent number of subscribers, get in touch and see if they might be interested in doing an interview with you or demo of the app. Once you've found outlets that you think would fit your target audience (and make an interesting story for them) just get in touch and stand by the phone (or Skype!).
Hype early but offer limited information to a limited few
Sometimes the best publicity is hardly any publicity at all. Look at the hype ahead of new Apple product launches. The lack of information but the knowledge that something is coming – if done in the right way – can create a bigger kind of buzz then just 'foghorning' your announcement to everyone.
You might not be as big a brand as Apple but you can still use a similar strategy. If you have an existing audience and blog, Facebook/Twitter page or other media channel then use them to announce that you are working on an app but don't reveal a lot of detail at this stage. Follow this up by then periodically reveal smaller snippets of information about the app (for example, revealing a particular feature). As you get closer to launch announce the launch date of the app a few weeks in advance (leaving enough time for last minute 'surprises' in the project of course) and again release a little more detail to keep people interested.
On the day of the launch you can still set all publicity guns blazing, but if you have an audience already (and an interesting or exciting concept for an app) taking a quieter approach early on might get you more attention than shouting about every single detail of the app the minute you first start working on it.
At the same time you can…
…give some extra details to people in the right places
If you any influential contacts (particularly any with a media profile with the audience you are targeting), you can reveal more details 'off the record' to them. When these contacts then start to talk about what you shared with
them on their blog or elsewhere (particularly if they reveal slightly more than what you have already publicly talked about to date) this will create a little more buzz as well. You can also send them some screenshots too (which might then be 'leaked') or even a demo build of the app for them to try (get their UDID first or lend them a device with the app on it). If you have one particularly influential media contact, you might want to offer them something as an exclusive in return for them publicising it.
You can then follow this up either just before or on the launch day itself by…
…offering a free download to influencers
Particularly – though not only – if your app has more of a premium price, giving away the app to selected people
/ journalists / reviewers who can create a buzz around it can also help. How? Every time you get a new app approved (or update it) you are given 50 promo codes which you can send to selected users allowing them to download a free copy. To do this:
Login to the iTunes Connect website with your Apple ID and username;
Click 'Request Promotional Codes';
Choose the appropriate app from the dropdown menu and type the number
of codes needed (codes expire four weeks after they are generated) and click 'Continue';
You will then be presented with a list of promotional codes which you can distribute as you wish;
For users to redeem a code just point them in the direction of the Redeem button at the bottom of the first page ('Featured') of the in-device App Store;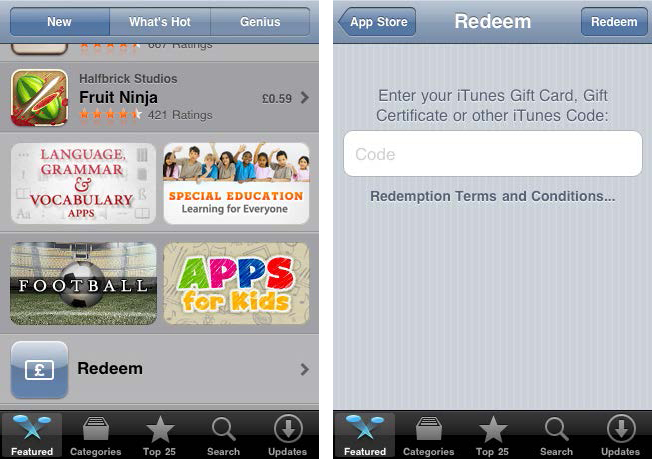 Redeeming a promo code is easily done
Currently promo codes are only for US App Store users but there are reported workarounds if you want to distribute a code to someone outside the US1.
If you run out of promo codes (you only receive 50 per release (version) of each app) the other (but more
expensive!) way of doing this is using the 'Gift This App' button on your app's page on the App Store.
---
1How to use iPhone Apps Promo code for non US Customers'
iphone.1800pocketpc.com/2010/06/03/tutorial-how-to-use-iphone-apps-promo-code-for-non-us-customers.html