Although you can't buy ads on the App Store and even though you have no direct control over appearing on the first page of it, you should still make sure you understand the promotional opportunities to be found there.
Get your App in the Top 25
(or Top 50) on the App Store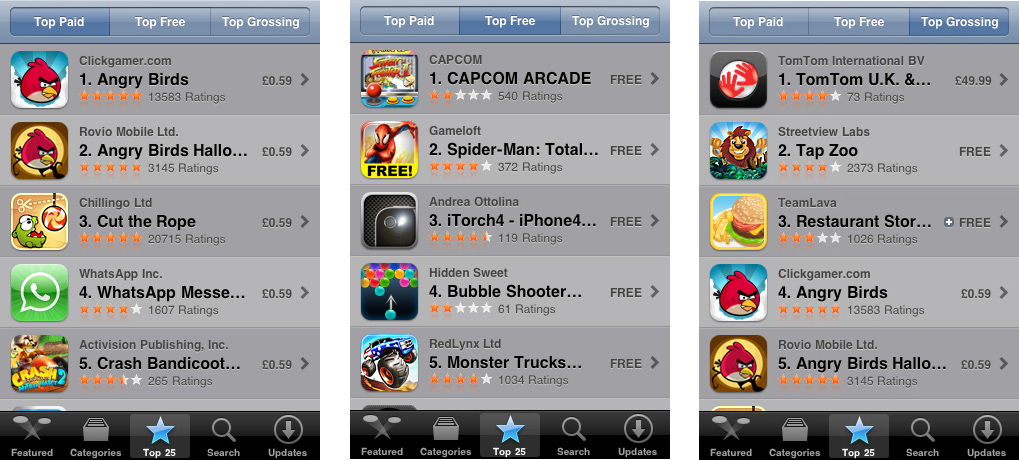 There are Top 25 list for Free, Paid and Top Grossing Apps. An appearance on any will give your app a boost
Getting your app onto either the global 'all categories' top list or high up in one of the individual categories isn't a guarantee of ever-lasting sales and downloads, but it has the potential to give your app a tremendous boost and move it onto 'greater' things. If achieving a large amount of downloads or sales is your goal then once you do achieve such a position you should do everything possible to maintain it and move even higher if you can (though a word of wording, I have seen some developers go slightly crazy from constant checking of their App Store position. Be warned…).
Getting on a list is no guarantee of staying there of course. For many apps though (usually, quality apps) getting on a list can become a self-fulfilling prophecy and they can end up staying there for a long time (see Angry Birds).
If your app still has a few rough edges though then getting on a list can easily lead to a rating/comment backlash from users and have a negative effect, so be prepared. However many apps showcase perfectly how to harness this new found App Store fame. Angry Birds is a great example, keeping it's price consistently low but constantly providing (free) updates to their app with new levels etc. By doing this they are consciously deciding not take to any more money (from this particular app at least) from those who already bought it. The goodwill, good reviews and word of mouth they generate by doing this though helps them recruit a whole army of new Angry Birds purchasers. It also makes it more likely that their existing fans will buy future products from them (see the success of 'Angry Birds Halloween') as they are confident of getting a good experience again.
Get your App featured on the App Store
Getting your app listed as one of the featured Apps on the first pages of the on-device App Store will provide a huge boost in sales. If you are checking your sales figures daily and see a sudden spike, this is one of the things you should check!
From speaking to a publisher of a very successful UK-focused app, I learned that they saw a six times increase in downloads during the period they were featured on this part of the store. This is backed up by many other developers,and respected technology website TechCrunch.com confirms:
"Being featured by Apple is the greatest contributor to spiking sales. The level of Apple promotion, as expected, reflected what sort of increase the developer would see. Areas such as "New and Noteworthy" produced slightly less gains than "Staff Favorites" or "What's Hot." Generally speaking, it is safe to assume a 2-20x sales spike following being featured, with the effect lasting roughly a week or so before returning to average numbers. The key here is to use this dramatic spike to propel the app onto a top list—be it the universal top 100 or in a top list for a specific section or country. Once there, the app has a much better chance of moving up and reaching a higher plateau of sales."
'iPhone App Sales, Exposed' TechCrunch.com (techcrunch.com/2010/05/16/iphone-app-sales-exposed/)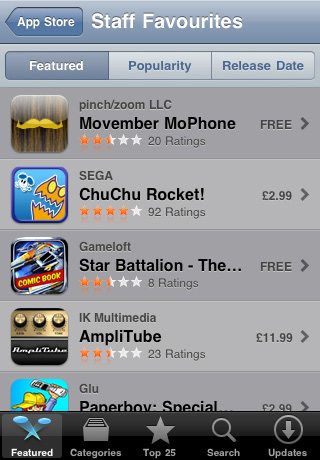 Apps featured as 'New and Noteworthy'
How do you actually 'get' your app on there though? You don't. Apple pick and choose the apps they like. Create something cool or original (or very 'Apple friendly') and it might get picked up. Some developers claim to have a good relationship with Apple and that they can influence things to some extent. I wouldn't doubt this is true in some cases (I have certainly seen it happen) but is not something you should rely on. Instead should you receive this (possible) one-time boost of being featured on the first page of the store, you should be pre-prepared for how to best use it to springboard your app into the Top 25 and Top 50 lists.
Here's the official word from Apple on their iTunes Connect homepage:
"Want to help your chances of being featured on the App Store? The iTunes editorial team is always looking for apps to highlight. The criteria for an app being featured includes demonstrating technical excellence as well as having a strong App Store presence. You can improve your app's presence with engaging screenshots that clearly demonstrate the features and functionality that make your app unique, as well as with creative large and small icons that are free of any messaging (like "Sale", "Lite", or Free")."
© 2010 Apple Inc.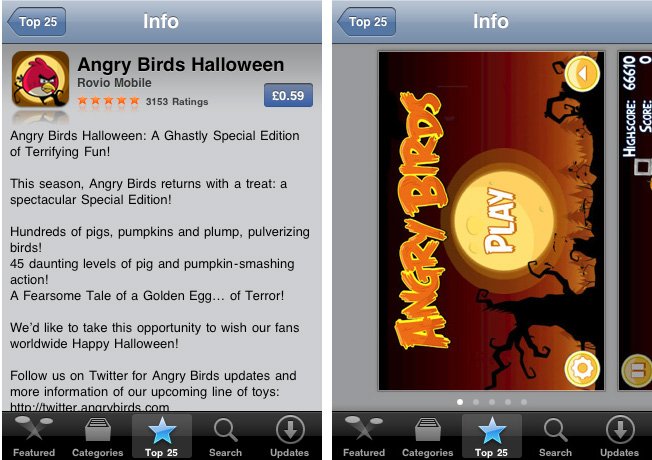 The good will generated by the first edition of Angry Birds gave their Halloween edition a boost
Your App Store Listing itself…
Covered in Part Five of this guide, it is essential your App Store listing works as hard as possible.
…including creating an eye-catching icon
Covered in Part Three of this guide, you should also make sure that that the icon that sits alongside your listing in the App Store is as good as possible too. If you are still in any doubt about the importance of the App Store (particularly the on-device version) just take a look at some of the research available. One report by AdMob2 shows that 60% or more of users either download apps through searching for a specific type of app on the App Store or browsing through top App Store rankings. That's a lot of people making download decisions based on what they see on the App Store and a lot of potential users you don't want to miss out on.
Limited promotion / pricing strategy
You may want to look at doing a limited promotion (eg dropping a $9.99 app to $0.99 for a few days to create a buzz (assuming you have informed people!)) and creating a rush of sales. This may help push your app higher if you've made it onto the Top 100 of a category list but are still relatively low on it and are trying to reach a higher position. If it works and drives your app higher, you then have the difficult choice of deciding whether to put the price back up to its original level or sticking with the new lower price for good (such is the addiction of
App Store fame!). If you're not sure you can try increasing the price again and closely monitoring the impact on its App Store position. Bear in mind though that some of the most successful apps ever are the $0.99 ones! If you're rising higher and higher in the App Store as a result of your new price though, just take comfort from the knowledge that it's a good problem to have.
One note of caution. If you are in the habit of charging a premium price, dropping it very low every few weeks (to drive your app higher in the rankings) and then pushing the price back up again. You may find that your prospective purchasers start to learn this pattern and you no longer get any sales outside of 'promo time'. This then gives you the double 'joy' of killing all your sales (and higher profit margin) at your standard price, while only ever seeing sales at your less- profitable, promotional price. You may also end up annoying some of your loyal audience who invested in your app at the higher price, only to see it drop a day later! Clearly how you handle this has to be closely monitored, well managed and clearly communicated.
You can change the price of your app by logging into the iTunes Connect website (covered further in Part Five).
Lite & Paid versions
Covered in Part One ('Monetisation'), you should also consider launching Lite (ie. free) & Paid versions of your app.
This allows potential purchasers to 'try before they buy' with the Lite app (and if your app proves popular, generate
a buzz). In turn many of those who sampled the Lite app will then go on to buy the full, paid product, now more
confident that they will like it and feeling that they have less chance of regretting their purchase later on.
---
1'How did Angry Birds become a blockbuster?'
mobilewebgo.com/how-did-angry-birds-become-blockbuster-rovio-video-interview-and-transcript
2'How do users discover iPhone Apps?' AdMob via ReadWriteWeb
readwriteweb.com/archives/how_do_iphone_users_find_new_apps.php